A Proforma Invoice (PI) is a must document for a Letter of Credit.
This document provides information regarding goods/services quantity, price, delivery, buyer and seller information, and other details.
A Proforma Invoice is issued by the seller to the buyer. It should provide sufficient information to the buyer to open the Letter of Credit.
PI is also required if the buyer needs an Import Permit (IP) for opening LC of any specific goods/services.
The bank uses this Proforma Invoice to get the seller (exporter) information and collect the credit report (as regulated by the Central bank).
Contents in PI
As I mentioned earlier, it should provide sufficient information to open the LC. These are the information that should be included in the PI:
Seller information (Company name, address, contact)
Buyer information (company name, address, contact)
Proforma Invoice number
Date (issue)
Goods/service name/description
Goods/service qty.
Unit price
Total price
Delivery period
Payment term
Sales/price term
Bank details of the seller
Validity of PI
Country of origin
Port of loading
Port of discharge
Tolerance
Additional information may be present. Proforma Invoice is issued on the letterhead of the seller and has their signature on it.
Example of Proforma Invoice
Here's the one PI.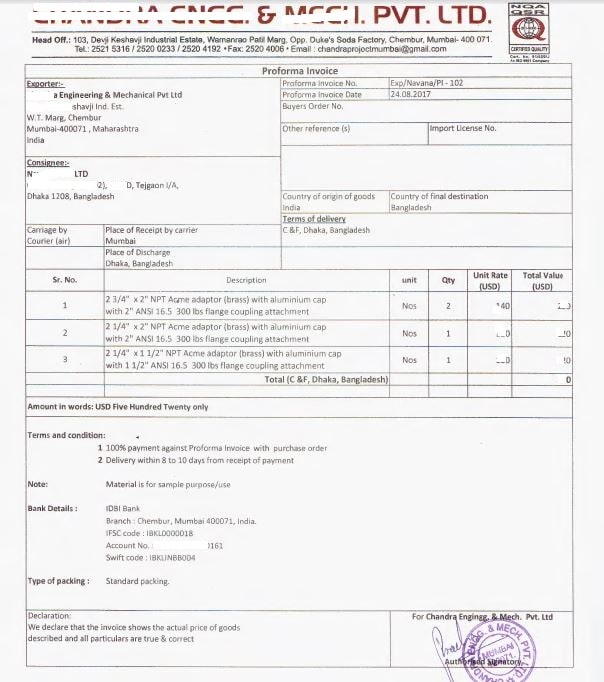 The Proforma Invoice in the LC
In F45A (Description of Goods and/or Services) along with Goods description, the Proforma Invoice number and date are mentioned.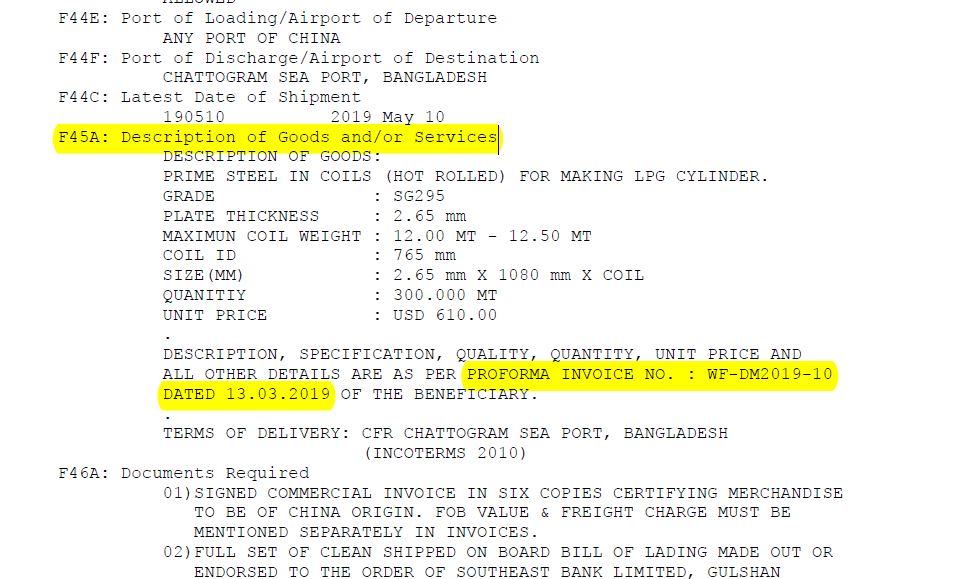 Difference between Commercial Invoice and Proforma Invoice in LC
You already knew about PI. This is issued by the buyer before opening the LC.
Whereas a Commercial Invoice is another document that is issued after the shipment of goods. It's a mandatory document for negotiation in the letter of credit. So it's listed in 46A (Documents required).
The Proforma Invoice is based on the agreed qty. as per the contract. But in actuality, the shipment quantity may vary as there's tolerance allowed in the LC.
In the Commercial Invoice, actual shipment qty. and value is mentioned.
Both Proforma Invoice and Commercial Invoice are presented but one cannot alter the other.