If you want to measure supplier performance either in pre or post purchase, you have to consider some criteria. You can then give a weighted score during the evaluation period. Here I only list the assessment points during supplier capability measurement.
Quality capacity assessment
Mission vision
Investment in R&D
Intellectual property
Suppliers personnel
Manufacturing capability and Technology
Extent of previous experience with similar service
Maintenance interval
Durability.
Assess supplier motivation:
participation in product design
providing flexibility in specification
arrange special quality content test or required inspection service
engage special staff
capability measurement
Mkt. Segments serviced by the supplier
Not supplying competitors
Capacity
Subcontracts
Stock limits
Percentage of required item with supplier standard product range
Export experience
Supply horizon
Delivery reliability
Lead time
Order treating system
Assess logistics arrangements
Security of supplier
Technical
Reliability
Low meantime between failures
Low outrage rate
Duration of service
Lead time delivery
Delivery of the main service
Supply Horizon
Offer continuity of supply
Financial Stability
Core product of supplier
Sustainable market position
Technical support
Readiness to train staff on site
Response time to queries
Response time for maintenance & repair.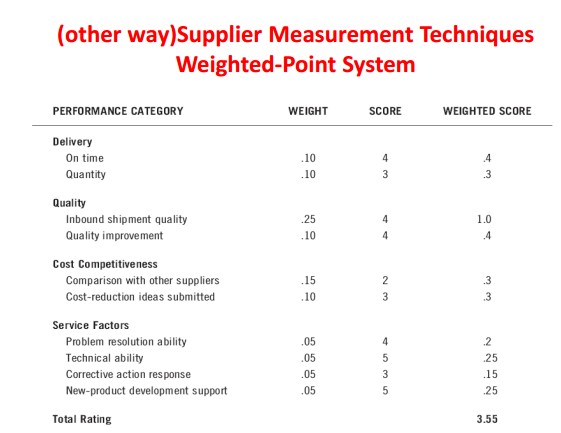 Performance Measurement and Evaluation
Post Purchase
A purchasing and supply chain performance evaluation system represents a formal, systematic approach to monitor and evaluate purchasing performance.
Problems with Purchasing Evaluation
Too Much Data and Wrong Data Measures That Are Short-Term Focused Lack of Detail
The type of errors that are occurring (wrong part picked, damage, shortages,
missed shipments, and so on)
Which customers are making the quality claims
Which employees are responsible for the quality errors
The total cost of the quality claims against the facility
The part numbers that have quality claims against them
Drive the Wrong Performance Measures of Behavior versus
Accomplishments
Purchasing and Supply Chain Performance Measurement Categories
Price performance
Cost-effectiveness
Revenue
Quality
Time/delivery/responsiveness
Technology or innovation
Physical environment and safety
Asset and integrated supply chain management
Administration and efficiency
Government and social
Internal customer satisfaction
Supplier performance
Strategic performance
Develop Specific Performance Measures Developing a Performance Measurement
and Evaluation System
Determine Which Performance Categories to Measure
Use of Accurate and Available Data
Creativity
Directly Related to Organizational Objectives
Joint Participation
Dynamic over Time
Non manipulable
Establish Performance Objectives for Each Measure
Historical Data
Internal Comparisons
External Analysis
Finalize System Details
Performance-Reporting Frequency
Education and Training
Using System Output
Implement and Review System Performance and Measures
Hope you get the points mentioned above. If you want to add something don't hesitate to comment here.
If you are in purchase or procurement department, you should know the supplier capability. So you have some experience based on your work.