Customer service is the measure of how logistics is creating the time and place utility for a product.
The meaning of customer service varies with the organization the product it is marketing and the transaction phase it is undergoing the buyer looks for value for the money he is spending, while the seller, in delivering superior customer service, looks for a trade-off between cost and customer satisfaction.
Hence, customer service depends on the phase of the transaction it is passing through. There are three phases associated with the exchange process. The degree of importance of each phase varies with the organization and depends on the product and customer requirements.
Read also: Concept of Logistics
Post-Transaction phase
This phase releases primarily to customer satisfaction and building a long-term relationship with the customer. It involves the commitment of resources to offer the desired level of service.
For service-based products, a post-transaction phase is an important phase dependent, on the quality, which may make the image of a company in the minds of their customers.
Read also: Customer Service (transaction phase)
Read also: Customer Service (pre-transaction phase)
1. Order status information
In e-commerce business-to-business transactions, the customer, after payment of part value (sometimes full value) of the product as an advance, requires continues feedback on the status of the shipment.
His production schedules or usage plans start only after the ordered product has reached the site. Many leading firms have a consignment tracing and training system installed on their websites for their clients to have online access to such information.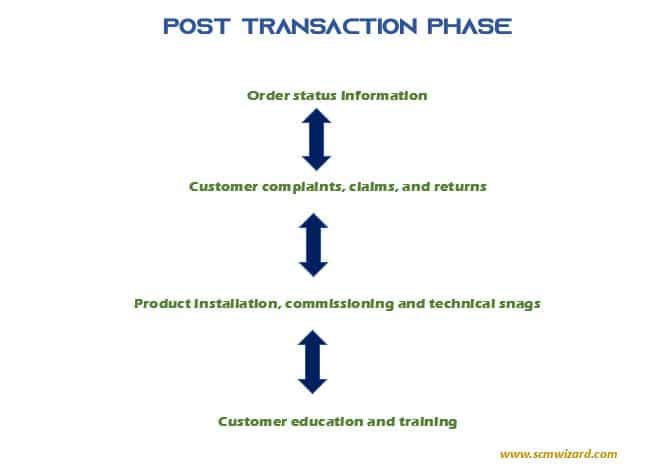 2. Customer complaints, claims, and returns
The seller's responsibility is not over after a product is dispatched to the client. The customer may have received products that were damaged during transit, or the product may not perform as per the functional requirement, or the client may have gotten the wrong consignment.
For resolving these issues, the manufacturer normally evolves a product return policy and implements it through the reverse logistics system.
Read also: Reverse Logistics
3. Product installation, commissioning and technical snags
Technically complex products need installation, commissioning and stabilization services from suppliers, or else the product might develop technical snags during the warranty period.
To handle these issues, firms normally have a separate set-up for after sales service. The after sales department takes care of all documentation customer technical complaints, product installation, commissioning stabilization and handing over.
Read also: Basic cost element in Transportation
4. Customer education and training
Customer education and training is an important service element in the post-transaction phase.
In the case of technically complex products, it is necessary for the seller to train or educate the user in their operation to get the desired functional output in supply chain management. This may be done through product manuals, training workshops, or demonstrations to improve customer service.